WHAT NOW? Young Adults, Graduates & College Group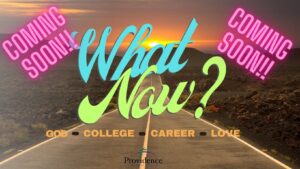 Providence Baptist Church Gym @ 9:20 am.
What Now? Is a Sunday Morning Class for young adults (18-33) at Providence Baptist Church in Comanche, OK being lead by Justin & Hollie Harkins. We are going to study God's Word on What Now?, if you just graduated High School, College, or starting a new job, and everything else under the sun. We are excited to see what God is going to do. "Trust in the Lord with all your heart and lean not on your own understanding; in all your ways submit to him, and he will make your paths straight." Proverbs 3:5-6
Don't forget to like and follow on Facebook!