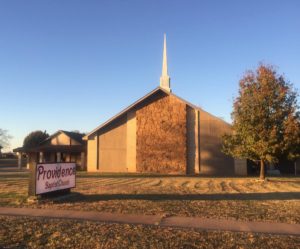 We are excited to meet you!
If you have any further questions, please feel free to contact the church! (580) 693-0528
What to Expect at Providence
Sunday Worship Services

Here at Providence you can expect to be received warmly and to feel welcome as you are. The service at 10:00am is designed to lead you in a worship experience that includes music, prayer, and passionate biblical teaching from Pastor Dee.
Sunday Mornings for Children
Providence has an excellent pre-school and children's ministry.
6 weeks – 4 yrs: Our safe and loving nursery is available during our service.
Kindergarten – 5th Grade: Sunday school classes are offered for all ages at 9:15. After Sunday School children ages K-5th grade will be escorted to the sanctuary to join their parents for the first part of the 10:00 service. At 10:30 you will witness the joyful dismissal to Children's church available for children K-5th Grade. Children will be picked up by their parents in the Sanctuary.
6th Grade- 12th grade: Student Sunday School begins at 9:15 in the youth room, located upstairs in the Gym. You can attend worship service together at the 10:00 service.
Adult Sunday School
We encourage you to connect with one of our Sunday school classes. Sunday School begins at 9:15. You can find class descriptions and locations under the sunday school tab.
What About Parking?
There is parking on the east and west side of the church. When you arrive you will see volunteers in the front parking lot who are there to happily assist you from your car to the worship center door.
Wednesday Family Night
Fellowship meal at 5:30pm in the fellowship hall. Adult bible study, Student Activities, & Kids Zone starts at 6:30pm